Welcome to Tadabase
What Is Tadabase?
Tadabase is an online database application builder anyone can use to create custom business software quickly, easily, and without ever writing a single line of code. It empowers teams and those closest to the data at work to rapidly solve their own everyday business challenges with custom software tailored to their exact processes and operational workflows.

Tadabase is the best way to manage data and automate processes with custom software that is fast and easy to build.
Why Use Tadabase?
Tadabase prides itself on being the most powerful and customizable no-code database application builder on the market.
The platform was
specifically
designed
for unlimited 
customization
, scalability, and security- making it the only no-code development platform to truly bridge the gap between enterprise-grade systems and limitless
configuration
.

With its advanced infrastructure, Tadabase is capable of scaling to millions of records with faster speed and greater efficiency than any other no-code platform.
Who Uses Tadabase?
From small businesses to large enterprises, companies of all shapes and sizes choose Tadabase to create custom solutions for their unique businesses challenges. 
If you run a business, manage a team, or are simply looking for a better way to manage your data and automate your daily processes, Tadabase is the easiest and fastest path towards creating that custom solution you have always wanted.
What Can You Build On Tadabase?
You can use Tadabase to build pretty much anything!
If you run a business, you can build a custom business application to manage your data and automate your daily processes and operational workflows.
If you manage a team, you can build a custom team management or project management application to manage and automate your team workflows, projects, and deadlines. 
If you run a nonprofit organization, you can build an application to track and automate your operations, donors, donations, and fundraising events. 
If you are looking for a better way to win customers and proposals, you can build a custom CRM to manage your information and automate your pipeline funnels for more wins with less work and greater speed.
Hobbyists use Tadabase, as well, to build custom apps for greater efficiency, speed, and ease in managing and automating their hobbies and sharing their creativity with the world. 
Whatever the challenge, there's a custom solution that can be be built on Tadabase.
Template Apps
For more inspiration on what can be built on Tadabase, explore the Tadabase Template App Library for a comprehensive collection of pre-built and fully-loaded applications that span multiple industries and use cases.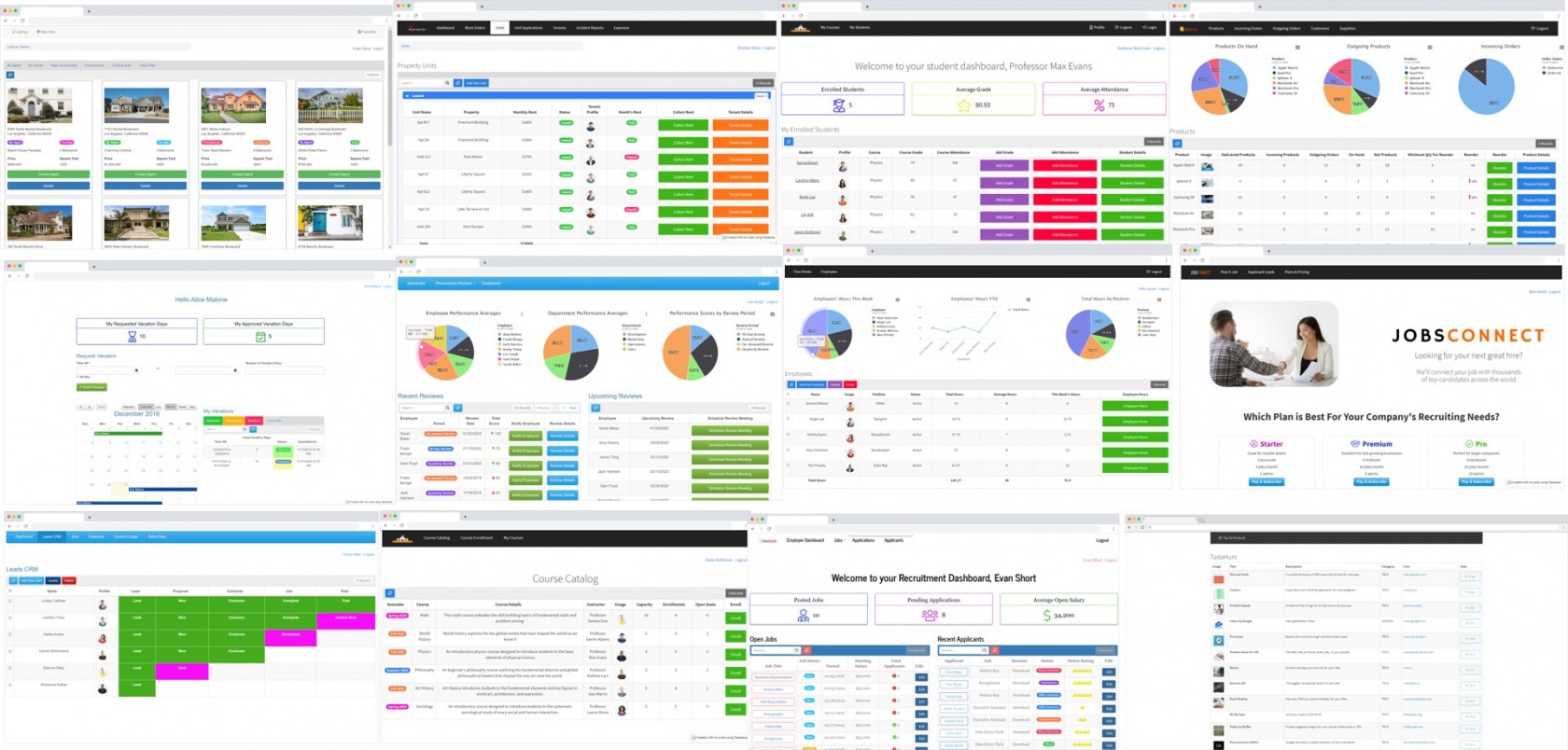 Click here to explore the Tadabase template app collection. 
Back-Office and Consumer-Facing Applications
You can build two types of applications on Tadabase: 
1. Internal, back-office applications- Create an application to improve your business's internal operations. You and your employees can manage data, automate everyday processes, and share information from one single source of truth.
2. External, consumer-facing applications- Create a stunning application that can be embedded within a custom website or portal and accessed by your customers. Personalize your applications with custom branding, aesthetics, and white labeling, and customize all layouts, pages, and menus for easy interface and user experience. 
Unlike other no-code platforms, with Tadabase you do not have to choose between creating a back-office or consumer-facing application. Easily build one application that is both back-office and consumer-facing, essentially bridging the gap between your internal and consumer-facing operations.
Both types of applications are cloud-based, making them accessible anytime, anywhere, and from any device.